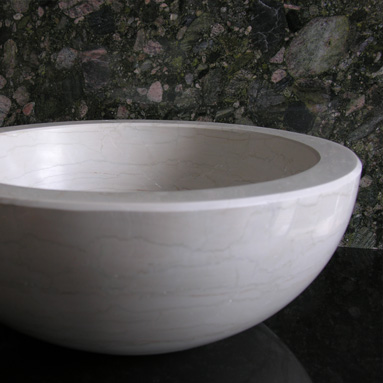 Orsea Istrian stone
Sink hollowed from a block: polished finish
It's a white limestone quarried in Kirmenjak in Istria. It has been used since the 14th century to build houses in Venice due to its low imbibition features. It's also very resistant to saline environment and to pressure, and it's still extensively used (for example, the new Constitution bridge by Calatrava is almost entirely built with Istrian stone).
Istrian stone has a colouring which varies from ivory white to beige, and sometimes to blue. Its surface is very compact, apt to any technique. Thanks to its excellent physical and mechanical properties it can be used in any building with durable and graceful results. Famous architects such as Scarpa, Aymonino, Gae Aulenti, Capuzzo, Rossi, prefer Istrian stone for its elegance and nobilty.
Rosso Asiago
Venetian-style altar step: polished finish
This marble has Italian origin and is well-known for it's dark and vivid red colour. The surface has darker and lighter spots. It is usually combined with antiqued finish or with Bianco perlino when creating check flooring. This kind of marble is mainly used in floorings.
Rosa di Asiago
Fan-shaped steps: polished finish
Rosa Asiago is a limestone quarried in Italy. It has a terrace structure and is uniform. Its colour is spotted pink with clearer and darker nuances. It is often used indoors, for floorings and claddings.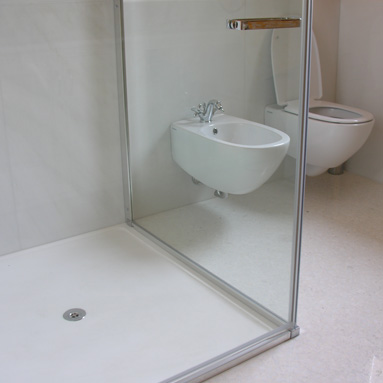 Bianco Lasa
Cladding and shower tray: polished finish
The Bianco Lasa is a white, compact and uniform limestone, with excellent chemical, physical and mechanical properties.
It is quarried in only two places in the Ortler mountains and it comes in 6 hues. It's one of the few types of white marble without veins and that can be mirror polished. It is suitable for any use, indoor or outdoor, because it is frost-resistant, pressure-resistant and weather-resistant.
This marble is shining and bright, and gives the plates a unique "sugar-like" feature It is an Italian material valued and sought-after throughout the world for its purity and high-quality.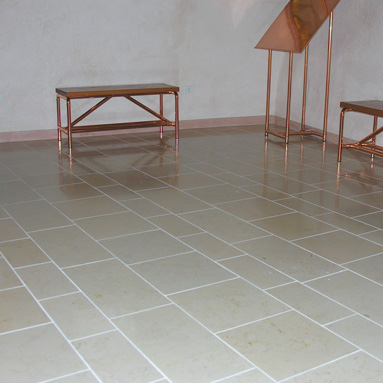 Ionic marble
Floor: brush antiqued finish
This floor was built for theGrappa Poli museum.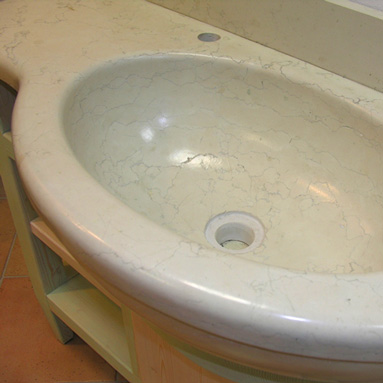 Biancone di Asiago
Sink hollowed from a block: brush antiqued finish
It is quarried in several places on the Asiago plateau.
It is a sedimentary rock composed by compact micritic limestone with conchoidal fracture in packed layers. It contains microfossils, sometimes also ammonites. It usually contains nodules, lenses or flintstone.
Leccese Stone
Outdoor pool flooring
It is an ivory-white limestone quarried in Salento, its surface is compact and without veins. The uniform surface conveys warmth to the works build with this rock.
The Pietra leccese is ductile, elegant and adaptable, it can be handled with different techniques such as polishing, bush hammer finishing or smooth for cladding and floorings, and coarse or antiqued finishing for rustic claddings, urban environment and historical spots. It is often used is swimming pool floorings and claddings because of its smooth but non-slip surface.
It is available in different sizes and can also be used to create handrails, archways, intradoses and frames.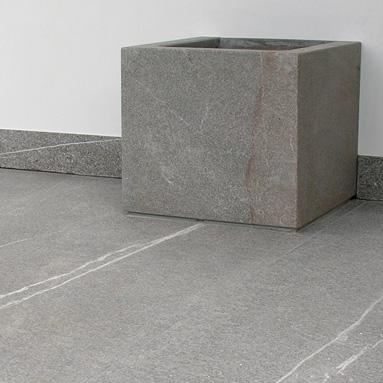 Pietra Piasentina
Floor: flame and brush finish
The Pietra Piasentina is a grey limestone with white threadlike veins and brown-red spots.
Its unique colouring, physical and mechanical properties (low imbibition, resistance to cracking, frost and weather conditions) allow its use both indoor and outdoor, for building, urban planning, renovating or decorating. When handled with flame or bush hammer, the Pietra Piasentina becomes anti-slip, and can be used for floorings and outdoor staircases. It can also be handled with any other type of finish.
It's been used since the Roman age for decorative purpose, but it became famous during the Renaissance when it was used to build palaces and public works. Even the architect Palladio preferred it for its rustic aspect when building the palaces in Friuli.
It has been certified with CE according to the European law UNI EN, and it is used even nowadays in prestigious and award-winner architecture.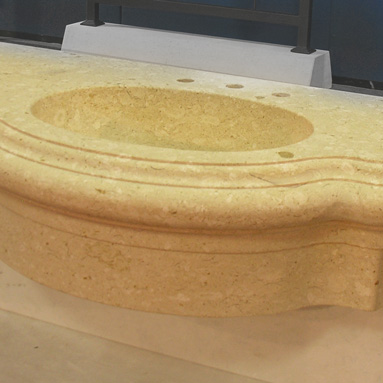 Pietra Tenera di Vicenza
Sink shaped from a block: polished finish
In the past it was quarried underground the Berici hills, especially during winter when people were not busy with field work.
It was originally cut with a double pointed stake or a wedge and the blocks could be even 4 meters long and 1 meter wide. Then it was carried downriver to the workshops (Pederiva di Grancona, Longare, Nanto, Sossano, Altavilla) or to the city, by means of oxcarts.
Carrara venato
Fountain for urban environment: polished finish
The Bianco di Carrara marble is one of the most classic and common types. The main colour is white, sometimes with light grey spots. It is often used for floorings, indoor or outdoor claddings, stairs, tables, kitchen work surfaces, sinks and shower trays.
Giallo Silvia Oro
Venetian-style steps: polished finish
It is an Egyptian marble, used both indoor and outdoor thanks to its excellent compactness. The best finish for this kind of marble is brushing. The colour is yellow with light orange veins.
Porphyry
Outdoor flooring: cubes and sawed finish
Porphyry is an igneous volcanic rock. It is often used outdoor because it is very resistan to extreme temperatures.Porphyry is quarried in various places. According to the location its colour, structure and extraction may vary.